Affiliate programs are a tool that can help us get regular online earnings.
We are talking about online method for earning money that has already been proven to work and has been in use since internet was discovered.
Since many people today encounter a variety of different methods of earning money that do not actually work, we will be describing affiliate programs in more detail!
Therefore, all you who are tired of wasting time and money on methods of earning that do not work, take 60 seconds of your time and you will make a big step in the right direction!
Here in this article, you will find out everything about it: what are affiliate programs, which ones are the best, how you can join them, how they pay us, how much we can earn, how to get started.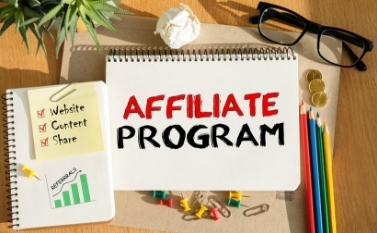 Affiliate programs and online earnings:
1.What are affiliate programs?
These are numerous online companies that enable us to promote their products and services. In order to increase their sales, we are offered a commission in return for each sale.
If we join certain affiliate program we can say that we are working in the field of affiliate marketing. And these days, this is a great way to get all blog owners to earn regular earnings.
2.Which ones are the best?
There are a lot of different affiliate programs on the web today. In our opinion, the best affiliate programs are those that give us a high commission or recurring commission.
Among the 10 best affiliate programs are surely the following: JVZoo, ClickBank, Amazon.com Associates, Rakuten, Affibank, HealthTrader, MoreNiche, Warriorplus, Google AdSense.
(On these affiliate programs, we find thousands of different services or products that we can promote on our blog and make nice earning because of it. Regardless of the topic of our blog, a suitable product or service can always be found.)
3.How you can join them?
Registration of an account with any affiliate program is free of charge. We can join them as soon as we are at least 18 years old. It is advisable, however, to own at least 1 blog or be in the stage where we are setting one up.
4.How they pay us?
We're paid in reference to our success. There are no final limitations to earnings. The more we sell, the higher the earnings we receive.
All affiliate programs that we mentioned above are reliable and valid in the world for the largest companies. At the monthly level, some companies pay their registered users more than 10 million dollars of commission fees.
They pay out our earnings once or twice a month. It depends on a company. In addition, you can also choose a payment method with the company. Usually we can choose between: PayPal, Skrill, Payoneer, cheque or direct bank transfer.
5.How much can we earn?
Our earnings are, of course, dependent on our knowledge.
…You should know that some individuals want to be self-taught and learn everything themselves. There are so many like them today.
Many people think that they already know everything, but later in practice they soon find out that they are wrong. You need to know that the right direction is much more important than speed. Many work in the wrong way and waste their time. For this reason, many such individuals abandon this line of work before they even reach any kind of results.
On the other hand, however, we have people who have the right knowledge, which they use in practice. These individuals on the internet earn from 500-10,000 dollars a week for this kind of work.
For many individuals this sounds pretty great. But in life, our success is often the result of a few steps in the right direction.
Below on the photo you can see how much you can earn with affiliate programs and blogging: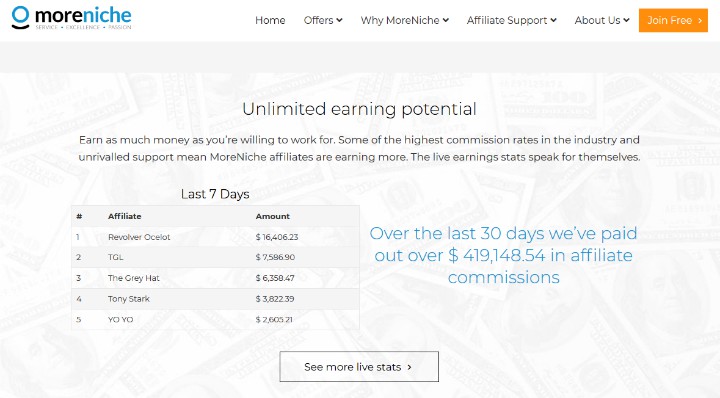 (These are top earners in the affiliate program MoreNiche.)
This is of course an income that many will find impossible…
But online market is incredibly big nowadays. And if you can earn $100 on the Internet, which means you can earn $1000 and much more. – And if you work and educate yourself further, you are on the right track to earn first earnings pretty soon.
6.How to get started?
We do not need any previous experience to do this kind of work. The basic knowledge of using a computer and web will suffice. We just need to be motivated a bit. That's it!
If you have the will to work and if you want to achieve real online earnings, no one can stop you, except for yourself. Only you are the one who can drive yourself to success, or stop half way there.
You decide on what you are going to do today, tomorrow and in the future. If you want to start blogging today, it may become your favorite hobby in a month, and soon this hobby can begin to earn you the primary earnings.
Setting up blogs and working with affiliate programs is not demanding for those who have the right knowledge. – However, the fact is that 80% of people do not have access to the right knowledge when starting with this kind of work.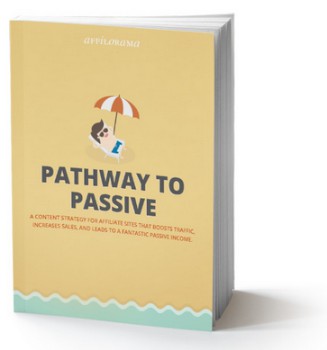 But you do! Here in this book – Pathway to Passive. You have everything laid out and described how to set up a profitable blog. And here in this – Complete guide you will find video clips, which will help you can start posting a blog today.
And all of this can be done even if you are completely without experience. Note that each journey begins with a single step. And if you do this step today, you will be proud of what you managed to achieve in two months.
(Phenomenal Book) – Pathway to Passive – How to Become a Successful Blogger:
Click on this green button to read the first chapter of the Pathway to Passive book.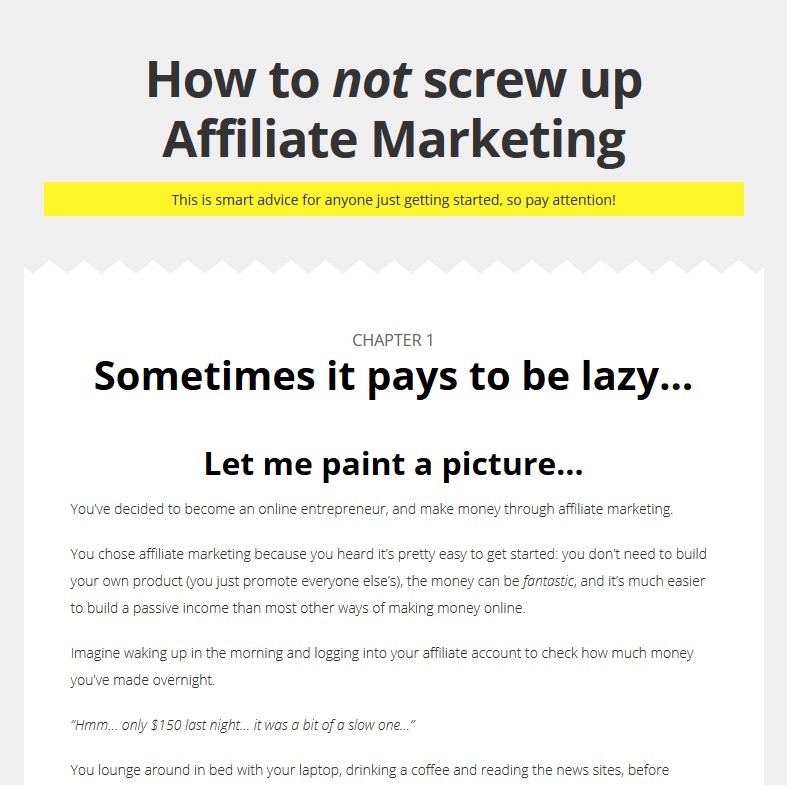 Click on this green button to read the first chapter of the Pathway to Passive book.
Our most popular articles: