When we talk about working online email marketing is surely a really important thing to talk about. Any successful online stores or blogs use email marketing.
Blogs that don't post any advertisements supposedly earn the most which is an online fact but more often than not those are just empty words…
…The truth is that it is not easy to succeed. That's my opinion on email marketing which I share with Jack.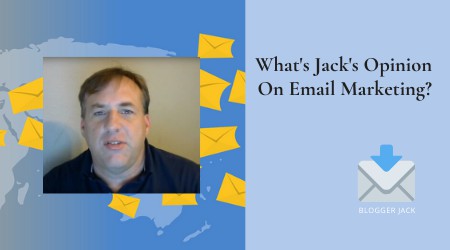 If you want to know what exactly Jack thinks about email marketing you can take a look at the video below:
If you looked at the entire video you saw that Jack nicely explained what email marketing is. I share a similar opinion but would just like to add that many people think it is really easy to make money online and that they will succeed in the first try.
That didn't happen with Jack nor did it happen to me. If that was the truth the world would be filled with successful people. Everyone would own their business that would blossom like flowers so in the spring.
But it is just not that easy. We have to put in some work if we want to create a brighter future for ourselves. If you don't want to do so you will surely have a hard time succeeding.
Mark Ling, blogger from New Zealand also agrees with that…

…In his student years he worked as a pizza delivery guy but soon after started blogging.
Once he earned his first 50 dollars he never looked back. He know that delivering pizza for 5 dollars an hour couldn't give him a bright future.
He saw his future online and had a good reason to never give up. Today Mark also focuses on professional email marketing. He's been working in the business of blogging for more than 14 years and has a lot of experience in the field.
He shares some of his personal experience if you apply to his new webinar.
On the webinar Mark tells you how he managed to create a huge emailing list – he has more than 100 thousand collected emails and earns really well by partnering with the website ClickBank.

To get such emailing list you need to have a lot of knowledge and experience. You can't do it in just one day. There's nothing else you can do but to educate yourself as you always stay on the same point otherwise.
I can tell from my own experience that you have to educate yourself if you want to become a really successful blogger.
Making friends with successful people, reading blogs and books is something that all successful bloggers do but you have to know you need to want it if you want to have it.
At the end, I have to tell you that only good will and wish for it will bring you to success!
Remember it as that is the way how I managed to create a good email marketing system myself. I worked on it until it was perfect!