If you don't know how to start working online my tips will be of great help to you as I will reveal my own experience. I will show how to start without knowing how and where.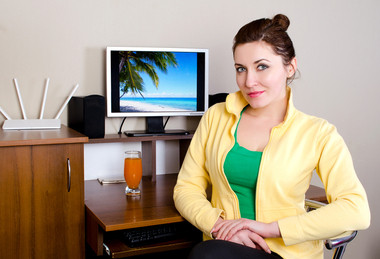 Three simple tips to succeed online:
Below I will show you how I started working online and how you can start yourself. (Even if you don't have any experience and don't know how you could ever succeed).
1.Reason:
The first step is always finding the reason why we want to start working online at all. I found my reason once I stumbled upon a partnership program which offers unlimited income. All I had to do was learn how to create websites.
I learned that but still didn't have any experience to start with. I can say that I was struggling a little bit but now I can say that it was the best decision of my life. It is the best hobby I have. My income depends on how much work I put into it myself.
The internet is truly a great place to generate income. We earn a part of everything that sells online. Our website promotes: hotels, taxis, mobile phones, computers…
We can promote anything that sells online. We don't sell the products ourselves or have direct communication with customers as that would require a lot of technical knowledge.
We don't need a big starting budget – simply a computer and some knowledge.
We must know that we work as brokers for partner websites like: ClickSure, ClickBetter, Amazon, Ebay, Google AdSense, JVZoo, LinkShare, Booking…
We receive a nice commission from everything that sells online.
2.Knowledge:
Once we find our purpose to start working online all we need is some knowledge and patience. We must know that income won't happen overnight and we should strive do educate ourselves even more as that will help us generate the income we want. If we gain our knowledge by listening to the experts we can soon fully automate our own business.
Good results require work and education. I will use my newsletter to send you tips on how to start working online which will help you succeed as all of the knowledge you need will be gathered in one place. Today you can learn how to create your first website. Learn so by reading my next article: https://bloggerfor.com/how-to-start-a-blog/.
3.Idea:
To start with I didn't have a special idea in mind. My first website was more of a practice than something else. I learned new things by creating it and found my true happiness.
How much fun the work truly is I discovered through work. With the knowledge I gained through the years I can say that only after a while I discovered how much income the internet can truly generate.
…And now I realized how much my knowledge can benefit others.
But, the first step is always the beginning. Nothing is clear in the beginning. It wasn't in my case. I suggest to anyone who is just starting out to create the first website to learn and to have fun. The theme of the website should be close to your heart – it should talk about something that you really like. You can write about your hobby or things that make you happy in life.
If you don't have a theme or you don't like writing you can use the website listed below to order the articles you want: Hirewriters.com.
If you want to learn more about working online I suggest you take a look at the video below. YouTuber Jack personally reveals his own experience with blogging: