Do you want to know what Nancy's opinion on blogging is? If you want to know you're at the right place as this article includes an interview conducted with my subscriber Nancy with whom we connected through email.
We exchanged quite a few messages. Nancy is truly a great person. I am really happy I got to meet her. Now it's time you meet her yourself.
Nancy says hello in her own style: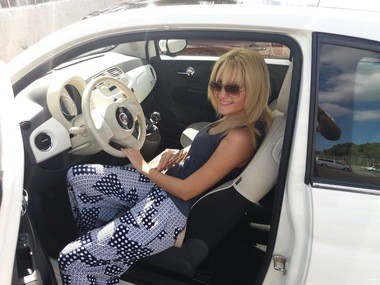 I asked Nancy three questions through email and she was happy to answer.
1.Why did you choose blogging?
I wanted to do something new in my life and I wanted to do it in my spare time which could be good for my future.
I've been working as a waitress for quite some time now but I don't see myself doing it until I retire so my wish to succeed in this hobby is even bigger.
Blogging makes me happy as it allows me to share my life experience with others and also allows me to make some money.
I hope to start earning enough so I can leave my job. That is my goal and that is what I'm working towards.
2.What do you like doing in your spare time?
I like to have fun so I dance. I attend weekly dance lessons but besides that, I also enjoy cooking, reading books and watching movies.
3.How much time do you dedicate to blogging every day?
As much time as I can – I have a full-time job where I work in three shifts but I think I can still find at least one hour to dedicate to blogging.
That is something I truly want to do so I won't find any excuses even though my schedule is full.
And that is it!
I would like to thank Nancy for her cooperation in my short interview. That's her opinion about blogging… But what's yours? (Your opinion means something to me so you can always share it in the comments below).

What do I recommend to Nancy and everyone else who wants to succeed with online work?
I recommend to anyone who would like to make a living with working online: They should be careful not to make any blogging mistakes, because most people stop blogging and never get to real online earnings.
I recommend to everyone who is serious about working online: >> When your plan does not work, you need to easily change your plan and NOT your end goal! << – That's exactly what you need to do if you want to succeed.
… And for another plan it is clear that we need new knowledge. (Because knowledge is a passport for our future and a better future belongs to those who are prepared for it today.)
And … John Crestani webinar is already one of the things that offer this passport. Anyone who does not want to miss this life opportunity that is offered now, should sign up for the John Crestani webinar today.
For more than 10 years, John Crestani has been extremely successful in working online. He is making a good living on account of the Internet, and on his current webinar, John reveals how you too can start making money online!