Writing a blog for hobby is an interesting thing that we can do in our spare time.
This is especially true for those who like to read books and express their opinions through writing.
Writing is my favorite form of expression because with it: I get rid of stress, become more productive, learn new things and become more aware of myself.
If we write every day about what is on our mind, what we think about a particular topic, what our experiences are, what do we want to achieve in life, how we feel, then we do not need a psychiatrist to explain to us who we are and how we can find our happiness.
Before I, blogger Sandra, started writing, I had no clue that this job was so fun and brings so many advantages with mental health.
Today I can say that writing is something I can no longer live without. For me, writing is like: air, bread and water. Writing is an art truly worth discovering.
In this article I will teach you how to start writing a blog for a hobby!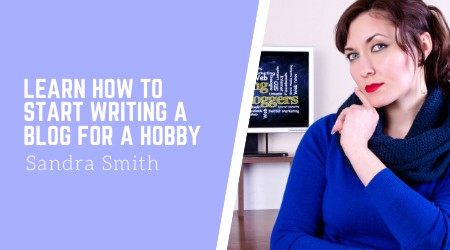 Everything you need to know
about writing a blog for a hobby:
It doesn't matter who you are or what you are:
If you want to write a blog it doesn't matter who you are or what you are. It doesn't matter what you have and what you don't have. If you want you can even introduce yourself under a pen name in your blog. All that matters is that you are honest when writing. Only in such way you will be able to put your emotions into text and create a masterpiece that will excite you and your online audience.
You can listen to music when writing:
This is exactly what I, blogger Sandra, do. Music really helps me with writing. With the right tune, I feel something more that I want to share, and that makes me feel good. Writing is not difficult at all, you just need to find out what motivates you. Personally I find music very helpful and I believe it can help you as well.
You can get regular blog followers:
If you decide to write a blog, one of the best things about it is that you can help many people around the world with your articles. If you share your knowledge and experience with them, they will learn things from you and believe me that they will be very grateful. You can get regular blog followers via social networks and even meet new friends.
You can share your opinion and experience:
You can write about any topic you want to write about in your blog. This is your blog and you decide what to write about. You can write about how you currently feel and want to tell the world, or you can share your opinions and experiences on a topic that is close to you: bodybuilding, weight loss, music, partnership, love, fashion, languages, books, photography, travel. If you want, you can dedicate your blog to just one topic. That's definitely a good idea.
You can start writing articles easily:
Believe it or not, writing is not difficult if we use the right system!
Step 1: Compose a good title for the article. Step 2: Define subtitles for the article. Step 3: Do the research if you need to. Step 4: Begin with the introduction. Start by posing a question or a fact about specific topic, and then immediately describe what your readers will learn in the article.
Step 5: In fifth step, you start writing in detail about the subtitles you have chosen. Step 6: Finish the article with a concluding thought. Step 7: Proofread the text before publishing it. Step 8: Publish the article on your blog and maybe add a few pictures. Step 9: Start promoting published article on social networks to gain regular blog followers. Step 10: Connect with your blog followers and enjoy chatting with them.
10 Facts about writing a blog:
There are quite a few interesting facts you may have heard about already.
Fact 1: Writing can be in a conversational tone. Fact 2: Grammar does not have to be perfect if we write our own blog, we can make a spelling mistake here and there. Fact 3: We can write articles on any topic we want and in any language we want. Fact 4: A blog can help us get a better job. Fact 5: We can also achieve extra or primary earnings with a blog.
Fact 6: There are also some costs with a blog – Max 150$ a year for a hobby or +150$ or more a month if we wish to have a blog for business. Fact 7: When trying to earn money with our blog, the results will depend on: work, education, motivation and perseverance. Fact 8: We need an internet connection and a computer to work. Fact 9: Work can be done anywhere and anytime. Fact 10: Articles can be published on our blog for months in advance.