When you are doing basic optimization, you first pick the keyword, for which you would like to rank in Google search engine, Bing and Yahoo.
Your chosen keyword should not have too much competition. You can check the competition with the KWFinder tool.
To start, I recommend doing some basic optimization for the keyword you use for your blog name. This practice is used to help your regular visitors find your blog faster in the search engine.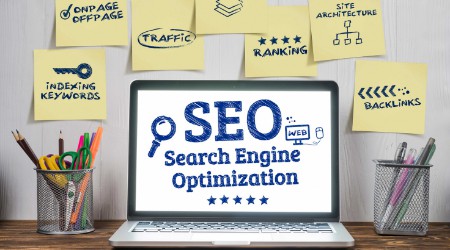 Complete guide to basic optimization:
For an example, first look at the website: Wikipedia. It's a name of a well-known site. When we enter their name into a search engine, the first result is their official website: https://www.wikipedia.org.
This is exactly what you can achieve with your blog by doing basic optimization. Your website should appear as a first result when you enter the name of your blog.
Do you understand what I mean?
For example, if your blog is: http://FitnessExpertEdu.com, then your blog name is Fitness Expert Edu in this case. You need to do basic optimization for this keyword if you want your blog to be found whenever people type in the blog name.
1. First step – Do on-site optimization:
If you wish to rank in the search engine for the keyword Fitness Expert Edu, your blog must first be relevant to that keyword. This means that you have to use the keyword in a natural way repeatedly on your site.
If there is not much SEO competition, then it is enough to use the keyword for your blog name, for homepage. And to use the keyword in your homepage meta description. In this case, you can easily do homepage optimization.
2. Second step – Start on off -site optimization:
Off-site optimization is getting links from other websites. In order to rank for our chosen keyword in search engines, it is very important to use the correct anchor text. Anchor text is text that we click on. (The text where a link is inserted.)
For example, if we want to rank our homepage http://FitnessExpertEdu.com, we need to use the keyword: Fitness Expert Edu for anchor text on other websites and with a destination url at: http://FitnessExpertEdu.com.
We must be careful when using anchor text. For the first link, it is best to use the actual url address for anchor text: http://fitnessexpertedu.com, then we can use our exact keyword 2-3 times: Fitness Expert Edu. Later, our anchor text phrases can be: click here to visit Fitness Expert Edu, get more information at Fitness Expert Edu, visit Fitness Expert Edu… This is how we get links in a natural way, which is extremely important. Anchor text should not be repeated too often with the same words.
When we are getting links for a new blog, it's wise to get them slow. Let's say no more than 1-2 a week from the beginning. Later, after 6 months, we can get connections faster. When it comes to search engines, it looks a bit unnatural when new blogs get a lot of links in short period of time.
It is best if we get the links through Guest post. You can sign up on Fiverr and there find people who offer Guest post services. Make sure to mention that you need basic optimization for your blog. Tell them you want to get 10 links to get started and that posting should not be more than 2x a week.
In addition, check if the provider has indexed blogs and if they are hosted on different IP addresses. Also check PA and DA. Blog should have at least 15 PA and DA. This tells us that a blog already has some authority and a link on such blog can definitely improve our search engine position. You can check all this through the free tool: https://smallseotools.com/domain-authority-checker/.
In the end, do not forget that your link needs to be posted in an article that is related to the topic of your blog. Your targeted keyword must be mentioned multiple times in the article where the link is inserted. In addition, the article must be 100% original. It should contain at least 300 words, but even better if there are 500 words. That's it! This is how you can do off site and on site optimization for your blog.
When you started working on this, do not forget that this is a time consuming process. Your blog can only begin to appear under your chosen keyword after 2-3 months, this applies to new blogs even if there is no SEO competition.
Still, it's a good idea to do some basic optimization in the beginning. (To quickly reach targeted customers you can later work on paid advertising, but before that it is good to have: basic optimization, well- monetized blog with email and affiliate marketing.)
Take your blogging to the next
level.
Start building your online business today.