Many bloggers ask themselves "what content to add to my blog?" which is important, as the content is the main part of our blog.
We simply cannot succeed without good content so make sure to take all of today's tips into account.
Things to add to your blog!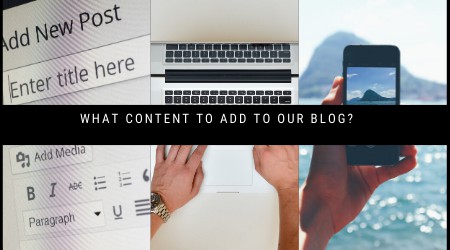 Original content  is KING
Relevant content:
If you use your blog to write about weight loss stick to that theme and only write about things related to that topic.
If you don't have any ideas about what to write about the chosen topic use the Google keyword planner tool which will find keywords linked to the chosen theme.
Useful content:
Not only do we have to post about relevant things, but we also have to post some useful content.
We must use our articles to help others – if our visitors want to lose weight, use your articles to show them that everything is possible. Let them know that you understand them and give them some tips that are useful and they will be grateful for.
Interesting content:
We have to be interesting otherwise our visitors may think we're boring and won't read the things we post.
If you visit the biggest online media you can see how much interesting content they have. You can use their website to find attractive headlines and beautiful photographs which will make you want to read the article.
If you want to become a successful blogger yourself, use nice photographs and create interesting titles for your articles.
If you use your blog to write about weight loss, create titles like:

-7 Most common mistakes when losing weight

-5 Biggest tricks for weight loss

-5 Reasons why you're unsuccessful at losing weight

-Simple tricks for weight loss motivation

-Foods to avoid if you want to lose weight
Those are just a few examples you can use to write your articles.
The titles are completely universal and can be reformed to use with a different theme.
When choosing titles you should also pay attention to their uniqueness. Before posting check your article using the tool: PrePost Seo Plagiarism Checker. If your post is not unique and used in the same way on a different website, replace some word in the title and re-check it using the same tool.
Those are the things you have to take into account if you want to create a successful blog.
Take your blogging to the next
level.
Start building your online business today.