Creating a ClickBank account doesn't take much effort.
This article contains a step-by-step guide on how to do so.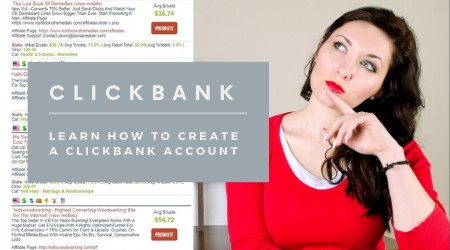 How to create your ClickBank account:
1.Visit ClickBank.com:
As the first step you have to visit the website https://www.clickbank.com/ and click the button in the top menu: Create account.
2.Fill in your personal information:
If you got past the first step you're now on the page that asks for your personal information. Fill in the form and click the button: next step.
3.Fill in the billing information:
After successfully completed second step you now ended up on a page asking for your billing information. Fill in all the fields and don't forget to read the Terms of Service.
4.Fill in the survey:
Step four asks you to fill out a survey which asks the basic questions on what you'll use your account for. Read all of the questions carefully and answer them.
5.Confirm your email address:
Step five is us checking our email and finding the ClickBank confirmation message which we should open and confirm our account by clicking the included link.
After successfully completing the five steps we now own a ClickBank account. You can immediately start promoting the chosen products. You can include the ads on your blog and start making money.
However, there are still some things we have to do before we can start making money. If you don't own a blog yet now might be the time to make one.
Take your blogging to the next
level.
Start building your online business today.