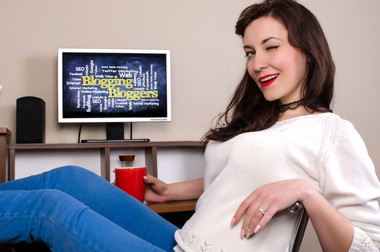 I'm blogger Sandra and here I have prepared a complete guide to start working from home as a blogger. You can do this work half or full time. (Before I reveal the perfect guide, I will answer 5 most common questions people have before starting.)
11 Proven steps
that bring me monthly earnings of $6735.44:

Before you start working, I find it fair to inform you that in the end, earnings depend entirely on you. Nobody can guarantee how much you can earn online. (Some do not earn anything, others 1000, 2000 or more than 3,000$ a month. We also have those who earn more than 10,000$ a month. In the end everything depends on you and your work.) Here in this forum you can check out how much some individuals earn per month with this work. I believe that on account of my knowledge, many individuals doing this work will be very successful in only a few months. Which ones, I do not know. I only know that those who work hard and regularly learn from me are on the right track! On the other hand, I know that there will be a lot of people who will never start with this work because they will think that there is too much to do. But you should know that there is nothing without work. You must work for your earnings in your 9/5 job as well. But you will not have such chance for earnings and freedom like you do with blogging, if you work diligently and consistently.
Here is bonus content for those who say:
"Too Much to Do, Too Little Time"
Step 1:
Choose a profitable niche for your blog
Among the most profitable niches are: bodybuilding, weight loss, health and beauty, personal finance, dating advice for women, dating advice for men, personal development, save relationship, diet and nutrition, spirituality, luxury travel, and more.
These are niches where excellent earnings can be obtained. Many people around the world are looking for solutions to problems in these niches. If you set up a blog on this topic, offer on your blog relevant products and services that are already proven to sell well on the Internet, then you can certainly earn regular and good commissions.
Step 2:
Join the best partner sites:
The best partner sites, where you can find thousands of products that can be promoted on your blog are: MoreNiche, JVZoo, ClickBank, Amazon.com Associates HealthTrader Affiliate Network and OfferVault.
On these pages you can find a lot of products and services that your web visitors are interested in. You only need to offer them a quality product or service and you will achieve your first, second, third and even 1000 online sale.
Step 3:
Select the product you want to promote:
After registering on your chosen partner page, find the right product for promotion. You will later promote this product through your blog and email marketing. At each sale you make, you get a set commission. This commission may range from $10 to + $300. How much will your commission be depends on what you are promoting.
I personally recommend that if you want to get good earnings, select the product which will earn you at least a $30 dollar commission. In addition, the product or service you promote needs to be relevant to the topic of your blog. For example, if you are setting up a blog relating to fitness, remember that visitors who want to lose weight will frequent your blog, so you should offer them a product that will help them.
Step 4:
Pick a unique domain for your blog:
In the fourth step, you have to select a unique and relevant domain for your blog. When choosing, allow yourself some time to think about it properly, because a better domain will result in a more recognizable blog. I recommend that the domain consists of two or three shorter words that are relevant to the subject of the blog.
For the extension, select .com. For additional tips on choosing a domain, read my article: A complete guide to selecting a perfect domain in 60 seconds. This is an article that will help you choose a perfect domain.
Step 5:
Register domain and hosting:
The next step after you have selected a domain is to register your domain as soon as possible before anyone else does it. You need to realize that these days, domains are basically virtual real estate, and some individuals own more than 200 domains. You can register a domain with SiteGround, and hosting as well. For more information, read the article: SiteGround hosting review – Price, Company information and everything else.
You need hosting so you can start setting up your blog. After you finish, your blog will work completely automatically 24 hours a day throughout entire year. The blog will work in an automatic way as long as you have registered hosting. A successful blog that you can set up through this guide can bring you earnings even at night while you sleep.
Step 6:
Start setting up your blog:
You can start setting up your blog as soon as you have a registered domain and hosting at SiteGround. After registering, the SteGround team sends hosting access data to your email address. There in the control panel you can start setting up your blog.
All you have to do to start setting up your blog is to find the Softaculous installer application. Through this application, you can set up a blog in a few minutes in a quick and easy way, even if you only have basic knowledge about using your computer and the web. When setting up a blog, the SiteGround support team can help you or our complete step-by-step video guide: How to start a blog and earn money.
Step 7:
Write a few articles for your blog:
Write at least 15 articles that are relevant to your blog. Each article should consist of at least 500 words. Make sure that the content is as useful as possible and easy to read. Use subtitles for better readability.
I also recommend the following for writing articles: First, do a keyword research in Google Keyword Planner and use relevant keywords in the title of the article and in the text. When picking a title, https://www.title-generator.com/ can be of great help. Research before writing and then immediately start writing your articles. In the end, check if your content is 100% unique. To be even better at writing articles, I recommend that you read my article: A guide on how to write a great article in just a few minutes.
Step 8:
Start working on email marketing:
You need to work on email marketing because it enables a fully automated system for online earnings. You can set up a subscription form on your blog. By obtaining emails from your visitors, you can keep in touch with them until they have subscription to your newsletter.
When visitors subscribe to e-news, they start receiving email messages that you have pre-written. I believe that you have written an email to your friend sometime. Here you write messages in the same way, but these messages are more informative and at times more promotional. If you want to find out more about how to start earning money online by sending e-mails, sign up for Mark Ling's webinar. I was totally impressed with Mark's webinar and with the knowledge I gained on the webinar I brought my online earnings to a whole new level.
Step 9:
Start attracting online visitors:
Once you have set up a blog and email marketing it is time for you to start working on getting online visitors. If you write about losing weight on your blog and email marketing, then you are probably promoting products and services that will help your visitors lose weight.
If you want to earn money now, you just need to attract visitors that want to lose weight. You can reach these visitors through the social network: Facebook, Instagram, Pinterest, Twitter. Or through Google, Yahoo and Bing search engine. You can attract visitors for free or in a paid way. How to get plenty of quality visitors can be learned through my article: https://bloggerfor.com/how-to-get-traffic-to-your-website/
Step 10:
Use Fiverr for help, when setting up a successful blog:
If you register an account with Fiverr
, you can find quality and affordable services that will help you set up your blog faster. For example, if you are looking for help with writing articles, you can enter a keyword in the Fiverr search: content writer, article writer, blog writer, website content writer or seo writer. If you need help setting up a blog, you can enter keyword: wordpress website creation, i will do a full website creation, i will build wordpress website. Then find a person who will write your articles or set up a blog at a good price. In addition, pay attention to quality. Check the overall rating of the individual and the number of completed projects. If you are ordering articles,
make sure that they are 100% original
, and reject them if they are not.
Step 11:
Persist and do not give up after the first or second step:
Why?
Because this is exactly what most people do these days. People are skeptical at the beginning and because they do not believe it is possible to earn money online, they will soon quit this work.
But the fact is that the Internet has over 4 billion users. The internet market is incredibly huge and if you think you cannot achieve online earnings, it is only because you do not persist.
You should be aware that earnings from this work do not come overnight. You need to persist a few months to get results. But after you have set up a successful blog, you esentially have home-based work that earns money automatically. Your blog works automatically 24 hours a day. This means that you can earn money even when you are on vacation or being lazy in front of a TV on the couch.
(For this home-based work there is more work to be done at the beginning, but later on we have a lot of free time and once we have a successful blog, we still earn money even if we go on vacation for 2 months.)
How?
If you are wondering how you can persist long enough to get excellent earnings with this home-based work, let me tell you that you must first have a goal of achieving this.
I really wanted to make changes in my life. It was difficult for me to start with this home-based work because it required a lot of effort initially, but on the other hand, it was even harder for me to stay at the same point in my life.
That's why I decided to take a step further, and I still do this work these days, because I see that every successful blog gives me additional earnings.
That's the reason why I persisted with this home-based work, and that's what will make it worthwhile for you too. Feeling when you make your first online sale is really incredible and at that time you will definitely want to continue working.
Here in this guide you have all the knowledge you need to set up a successful blog. Now it's just up to you whether you want to use this excellent knowledge in practice or forget about everything.
If you want to work from home, I suggest you do not hesitate to start, because later on you may find yourself wishing that you started a few months earlier! It's all in your hands. You are the one who decides about your own success. You are the one who can stop half way or go to the finish line. (Now, sleep on it and think carefully about your decision.)